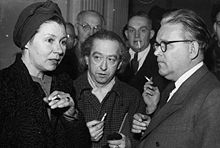 Veit Harlan
was a German film director, and the uncle of Stanley Kubrick's wife, Christiane Kubrick.
Films based on Harlan
Edit
Stanley Kubrick (even though Jewish) expressed fascination in making a film about the career of Harlan (an ex-Nazi). Kubrick also comtemplated a film about Joseph Goebbels, another Nazi. Kubrick supposedly worked on the Veit Harlan project for several years, despite the fact that he never got any further than writing a rough story outline.
Ad blocker interference detected!
Wikia is a free-to-use site that makes money from advertising. We have a modified experience for viewers using ad blockers

Wikia is not accessible if you've made further modifications. Remove the custom ad blocker rule(s) and the page will load as expected.